THE SUPERKÄFER -> TECHNICAL DATA

Below are the technical specifications for the 1302 and 1303 Super Beetles. Due to the diverse amount of countries where the Beetle was sold, the specifications on your Beetle could be completely different. These specifications apply mostly for European and US cars. It is important to note that with most previous VW's the model number signified the size of the engine installed in the car. The numbering strategy strayed somewhat with the Super Beetle models, where a VW 1302 could have either a 1200, 1300 or 1600 engine, with the same applying for the 1303.

There was also a 1600S Super Beetle produced in South Africa, which looks like a 1303 externally but has a king and link pin torsion bar front axle with 5 stud wheels all round.
Thanks to Simon Glen for providing information about these interesting Beetles

VW 1302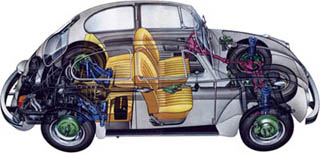 The 1302 was the basic version of the Super Beetle, with a 1300 engine and drum brakes up front. It also lacked some of the interior trim of the more expensive versions, and could be ordered with the 1200 engine. The 1302S had a 1600 engine, disc brakes up front and some minor accesories and interior trim items not found on the 1302. The 1302LS was basically the same as the 1302S with extra trim items, such as a padded dash, rear heated window etc.
Engine

Transmission

Suspension & Handling

Dimensions, Weights
& Capacities

VW 1303
The 1303 also came in 1200, 1300 basic, 1600 (S), and luxury models (LS). There were minor technical differences between the 1302 and the 1303, but the biggest difference can be seen externally; it has a panoramic (bulgy) windscreen, the bonnet doesn't come as far up towards the windscreen and some other minor body modifications. Also for the first time, the Beetle got a 'real' plastic dashboard and more modern looking interior. There were some minor improvements to the suspension to make the car handle better and the later cars came with fuel injection to meet the stricter US emissions standards.

Engine

Transmission

Suspension & Handling

Dimensions, Weights
& Capacities

| HOME | TECHNICAL DATA | VIN NUMBERS | MY VW'S |
| RELATED MODELS | CHANGES | TYPE CODES | LINKS |